Smartest Dog Breeds
Everyone, who wants to have a dog, always tries to find a smart dog as it will be so easy to be trained. However, all the dogs in this life are smart in some way, but there are some dogs, that are very intelligent! So, if you decide to have a smart dog, you should be careful to choose one of the smartest. In this article, you will find the ten smartest dog breeds in the world.
Top 10 Smartest Dog Breeds
There is no doubt that the Rottweiler is one of the smartest dog breeds as it would be greatly suitable to be obedience competitors, devoted companions, therapy dogs, herders, police dogs, and service dogs. Furthermore, this breed has some more advantages, that make it a great option as a pet, such as confidence, love, and loyalty.
9-Bloodhound
It is known that Bloodhounds are friendly, inquisitive, and independent. Their appearance is one of the most-known appearances of the dogs with big droopy ears and long wrinkled faces! In addition to that, they are very intelligent as you can train them easily.
8-Papillon
This breed is a happy, friendly, and alert dog. In French, papillon, whose ears are like a butterfly, means "butterfly". Because of being intelligent, fast, and versatile, papillon dogs can learn all tricks easily. There is no doubt that they are among the smartest dog breeds.
7-Labrador Retriever
The most popular dog breed in the US is the Labrador retrievers as they are friendly, gentle, and very smart. The Labrador retrievers are considered among the smartest dog breeds as they are great rescue dogs and guide dogs.
6-Shetland Sheepdog
In addition to being playful, the dogs of this breed love to play with children and learn new tricks. They're so smart herding dogs. The Shetland Sheepdogs, who are loyal and affectionate to their owners, can also be great watchdogs as they tend to bark at strange people.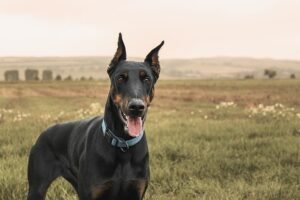 5-Doberman Pinscher
This dog is one of the smartest dog breeds as it is speedy, enduring, and strong. Furthermore, they can be a great war dog or Downpolice dog after getting the training it needs. These features make it among the smartest dogs.
4-Golden Retriever
There is no doubt that Golden Retrievers are one of the most lovable dog breeds, but they are also one of the smartest! These dogs, which are devoted, friendly, and smart, can be great in many things such as being a loving companion, searching dog, watchdog, and hunting dog. Furthermore, they always do their best to please their owners.
3-German Shepherd
German Shepherd breed is one of the most popular dog breeds in the world as they are intelligent, confident, and brave. They are used profusely as service dogs or police dogs as they simply do what is asked to. They are completely loyal to their families and very friendly with children.
2-Poodle
In addition to being hypoallergenic, poodle dogs are very active, proud, and intelligent. They are also so popular as they can easily be trained to obey, retrieve, hunt, and truck. There is no doubt that Poodles are among the smartest dog breeds.
1-Border Collie
The dogs of this breed are known to be very intelligent, affectionate, and energetic. They are very good at cuddling, agility, athleticism, and sheep herding. These features make put the Border Collie dogs on the top of the smartest dog breeds.
Share this to let other people know about it!