Best Guard Dogs
Many people look for a guard dog to have as they want to protect their families and homes. However, there are many dogs that can be used for guarding. In this article you will find the best guard dogs with their characteristics, so, you will be able to choose the right one for your family.
It is known that one of the most important jobs of domestic dogs is protecting. Many dog owners bring dogs to guard their homes from unwanted animals and people, and that's what guard dogs exactly do because of their great characteristics. However, the following dogs are considered the best dog guards by expert dog trainers because of their resistance to pain, loyalty, courage, physical strength, and temperament.
The list below contains some of the best guard dogs, that can also be great as pet dogs. Their courage, strength, speed, and even intelligence make them proper for any home.
There is no doubt that this breed is among the best guard dogs. The original purpose of breeding them was for bullfighting and bearing, which gives them a protective and aggressive nature. This means that they have to be trained and socialized in the most proper way when they are so young. However, the Staffordshire Terriers are considered great home pets despite being intimidated by strangers. However, the only time they will be aggressive is when protecting a member of their family.
9-Kuvasz
Over the years, Kuvasz dogs have been considered guardians of properties as they were originally bred to guard and protect cattle. The Kuvaszes do whatever it takes to guard their families as they are so territorial. They also need to be exercised hugely for having so much energy. The most important thing about this breed is that it is a good companion.
8-Rhodesian Ridgeback
Rhodesian Ridgeback dogs tend to be naturally independent as they have a strong prey drive. Rhodesian Ridgeback dogs, which were initially bred to hunt lions, are good as watchdogs as they are so loyal. However, when these breed dogs bark, it means that immediate action should be taken as they just bark when necessary. Rhodesian Ridgebacks, that aren't obedient in their nature, must be managed and trained in the most proper way.
7-German Shepherd
This breed is one of the best guard dogs as they are quick to learn commands and very intelligent. German Shepherds are the favorite police dog breed thanks to being fearless, confident, and bold. Despite acting immediately when they feel that their family members are in danger, they are generally calm in homes.
6-Giant Schnauzer
What makes Giant Schnauzer dogs among the best in guarding is that they're dominant, powerful, and strong. They're loyal to their families in the best way ever, but they're also intimidating to strangers.
5-Puli
These breed dogs, which were initially bred for herding, are very intelligent and very good at guarding. They start barking with no hesitation to alert their parents when necessary. They love outdoor activities, running, and hiking, which makes them great companions to active families.
4-Komondor
This breed is naturally a guard dog. They were even used in traditional history for protecting herds of sheep. The Komondor is strong, wise, loyal, courageous, and active. It can be a devoted pet for any family if it gets proper training and socializing.
3-Rottweiler
It is known that Rottweilers are so loyal and very smart. The breed, that was initially bred to protect cattle, can learn many things so fast. However, they are very careful with strangers if they are not introduced to them in a proper way. These things make them among the best guard dogs.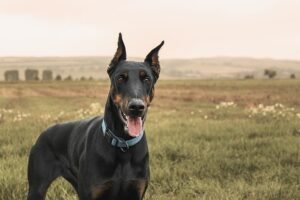 2-Doberman Pinscher
This breed is considered one of the best guard dogs as they are loyal, alert, and fearless. Being number 5 in the smartest dog breeds, they can protect their families or large properties in the best way ever. However, this breed should be trained perfectly.
1-Bullmastiff
This breed is on the top of the best guard dogs as they are extremely loyal, courageous, and strong. They also have protection instincts, which allows them to protect their families or properties from any outsider. The Bullmastiff dogs can be great household pets as they are friendly and docile.
Share this to let other people know about it!